Load Data from ArrayExpress to GenomeSpace

1. Launch ArrayExpress from GenomeSpace.
Click the ArrayExpress icon in the toolbar to launch ArrayExpress.

2. Locate data in ArrayExpress and send to GenomeSpace.
Search for ArrayExpress experiment data.

Results can be filtered using the "Filter Search Results" tool. In this example, we have searched for "muscular dystrophy", and filtered the results to be limited to organisms that are "Canis lupus". Open your selected experiment by clicking the experiment accession number (highlighted).
Click the Send [experiment accession] data to GenomeSpace link.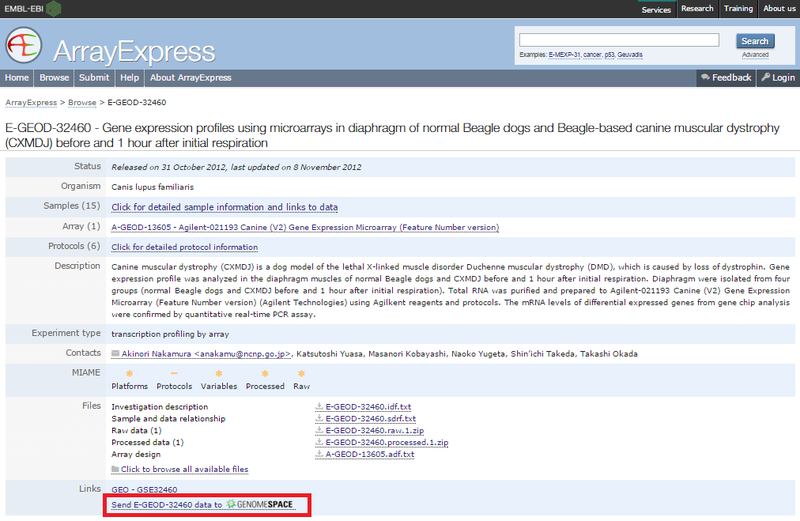 In the upload window, all of this experiment's files will be selected; you should clear the checkboxes for any files you do not want to upload to GenomeSpace. When all the experiment files you want to upload are correctly selected, click Upload.

ArrayExpress shows you the upload status of each file.

When all your files are uploaded to GenomeSpace, you can click the follow this link to open GenomeSpace UI link to go to your GenomeSpace.
3. Locate your ArrayExpress data in GenomeSpace.
If this is your first time loading ArrayExpress data into GenomeSpace, ArrayExpress creates an ArrayExpress folder in the top level of your GenomeSpace home directory.  Subsequently, ArrayExpress creates a separate subdirectory in that folder for each experiment you upload.

One way you can use the ArrayExpress experiment files (which are in MAGE-TAB format) you download is to send them to GenePattern's MAGETABImportViewer module to create GCT and CLS files for analysis.  See the MAGETABImportViewer module documentation for more information on the specific MAGE-TAB format the module can receive.