WDK launch on file or URL
WDK stands for Web Development Kit. This feature was introduced in the Blogpost from December 18, 2014, which is of more interest to developers.
Users need only know that private tools or tools that are not present in the GenomeSpace tool catalog may use this feature to allow you to save their data to your GenomeSpace account and even allow you to select a GenomeSpace Tool to launch on the data. GenomeSpace will prompt you to sign in to your account before saving files.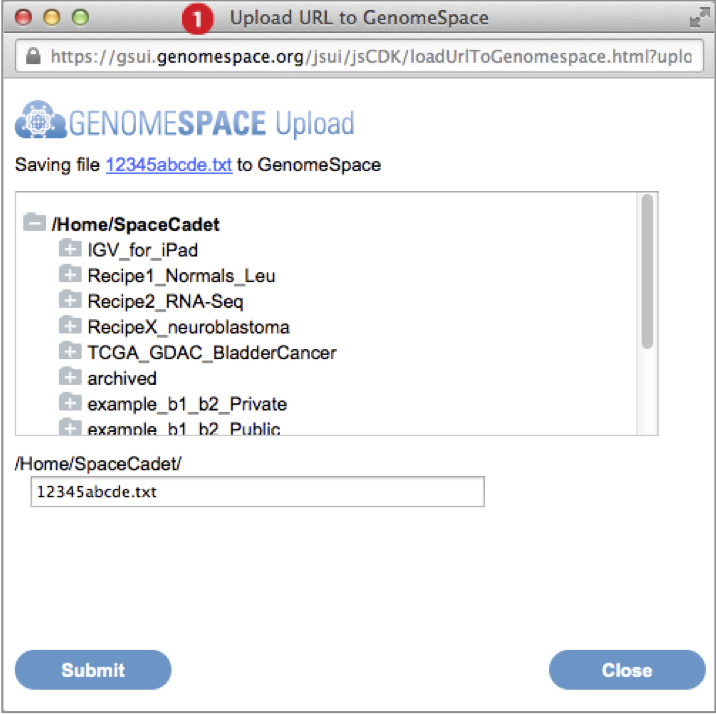 When you upload a file, the Upload URL to GenomeSpace dialog box appears (Screenshot above, 2015.2.4).

Select the a directory location that the file will be saved within.
Optionally edit the name of the file.
Click Submit.

Once the file is uploaded, if the feature includes launching a tool, then the Launch GenomeSpace Tool on URL dialog appears (Screenshot below, 2015.2.4).

Use the scroll button at the edge of the toolbar to see the next set of available tools.
Click on a tool to launch it on the data.