MSigDB Online Tools
Project Website: http://www.broadinstitute.org/msigdb
Logging In
When you launch MSigDB from GenomeSpace, GenomeSpace tries to log into MSigDB with your email address.  If you log in successfully, you will be brought to the Investigate Gene Sets page.  Note that MSigDB is closely affiliated with the Gene Set Enrichment Analysis (GSEA) tool, and thus shares its website.  You are in the correct place, even though the logo in the corner says GSEA.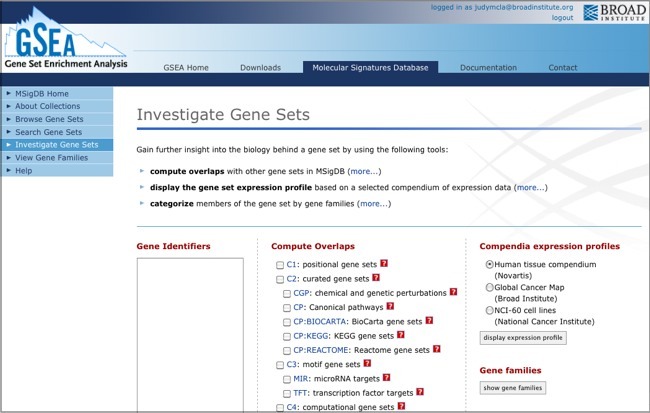 If the email address you use for GenomeSpace is not registered with MSigDB, you will be informed that the login failed.  Click the click here link to register as a new user, or log in with a registered email address.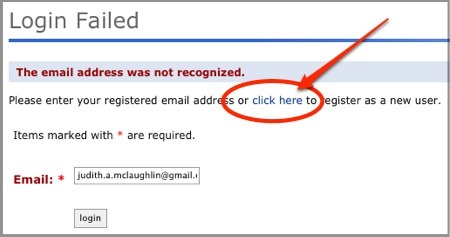 Even if the email addresses are different, as long as you are logged into GenomeSpace and MSigDB concurrently, they can send data to one another.
Sending Data to the MSigDB Online Tools from GenomeSpace
You can send a list of genes in text format from GenomeSpace to be used as input the MSigDB Online Tools.  The list can be one per line, or delimited by spaces, tabs, or commas.
From GenomeSpace, you can:
left-click the file and select MSigDB from the drop-down list
OR
select the file and click the MSigDB icon in the tool bar
Your gene list will populate the Gene Identifiers box on the Investigate Gene Sets page.
Note that you can also launch MSigDB by clicking its icon in the tool bar, then paste a list of genes into the Gene Identifier box.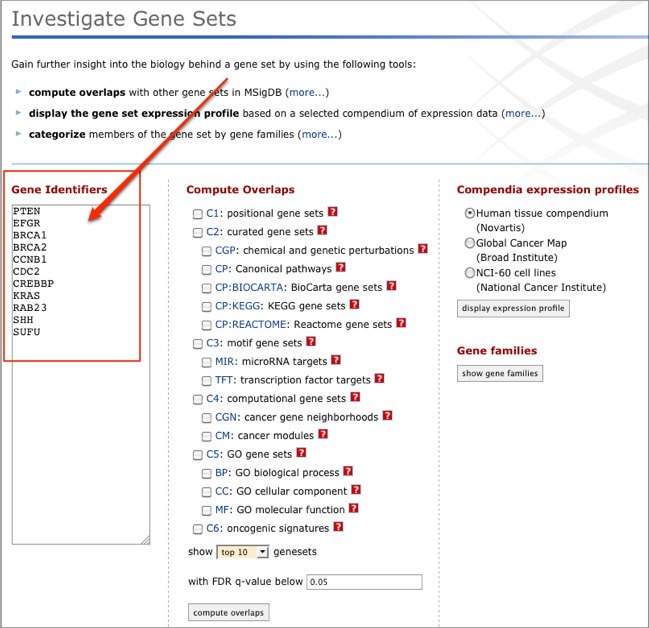 From here, select one or more collections in the Compute Overlaps list and click compute overlaps.
For more information on using the Compute Overlaps tool, see the Compute Overlaps help.
Save To GenomeSpace
From the Compute Overlaps results page, you can click the Save to: GenomeSpace link to save your results to GenomeSpace.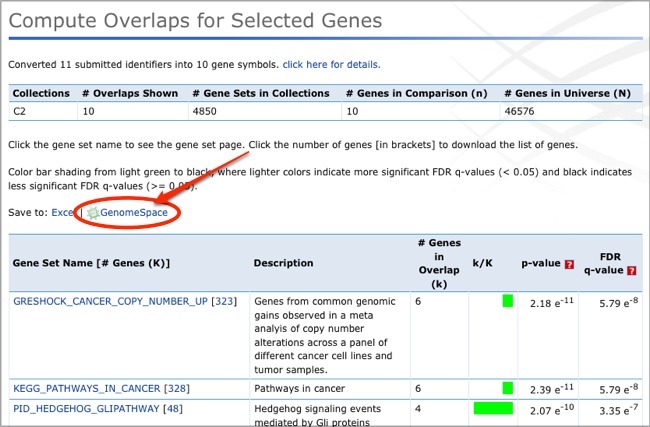 In the dialog, browse to the directory you want to save the overlap file to and click Submit.